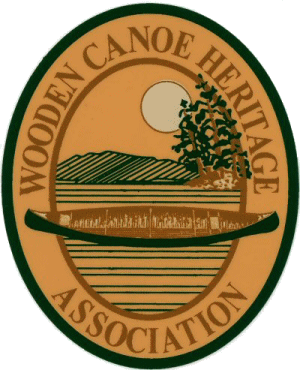 Susquehanna Chapter
Wooden Canoe Heritage Association
A non-profit membership organization devoted to preserving, studying, building, restoring, and using wooden and bark canoes, and to disseminating information about canoeing heritage in central Pennsylvania.
About Us
The Susquehanna Chapter was formed in January, 2010, when George Ginnovan held a meeting of persons belonging to the Wooden Canoe Heritage Association who reside in central Pennsylvania. Activities include paddling trips on local streams and lakes, how-to meetings, display of our canoes at local fairs and festivals, and social meetings. How-to meetings cover the many facets of canoe restoration, paddle making, and hands-on experience with such things as recanvasing a canoe. Membership is open to anyone who has a love of the wooden canoe.

Someone might ask, why bother with old wooden canoes that are covered in canvas when you can buy one made of indestructible aluminum, or plastic, or fiberglass. The answer is best summarized in the Introduction to the book, "The Wood and Canvas Canoe", by Jerry Stelmok and Rollin Thurlow:

Time spent in a wooden canoe of fine lines and able handling qualities is intoxicating. Restoring vintage canoes or building such craft from scratch can be consuming. It will ruin a man or a woman for any other work. This is not to dismiss all canoe builders as rapscallions, cumudgeons, or reprobates. But in the majority of cases there are the symptoms of an addiction, or at least a supension of common sense where canoes are concerned. We are kin to the hardbitten trout fisheman who stands out in the wind and rain breaking ice from the guides of his fly rod for a chance at an early season rainbow, or the railbird unable to resist the summons of the bugle, knowing it will be followed by the starting gun which will launch the thoroughbreds from the gates. We all know better, yet we simply can't help ourselves.